The Story of RESINATING LLC® and
RESINATING® Fiberglass Expansion Liners
THE FUTURE IS VERY BRIGHT!
We believe that Resinating Fiberglass Expansion Liners will replace CIPP and all other rehabilitation options to become the preferred option for rehabilitating pipes and manholes.
We believe that compared to Resinating Liners, everything else is a temporary fix!
With the information on this website, www.resinatingllc.com,
We believe you will come to the same conclusion.
THE SHORT STORY
Resinating LLC's Fiberglass Expansion Liner, its related products, its unique process and the Patented process that ties everything together will drive dramatic change in the way manholes and pipes are kept in good repair.
Resinating Fiberglass Expansion Liners offer municipalities, utilities and other organization substantial benefits compared to other options for renewing manholes and connecting pipes.
RESINATING Liners are leakproof and impervious to corrosion from any chemicals or biological agents found in waste water, storm water, fresh water systems as well as chemicals found in many other industrial and commercial liquids,
THE DETAILS
Let's focus on RESINATING LLC and the details of RESINATING's new Fiberglass Expansion Liners.
To start, check out the TRA Press Release.  RESINATING LLC replaced two failing layers of SIPP in a TRA manhole with a RESINATING Fiberglass Expansion Liner.  The total SIPP age of the two layers was 7 years.
The photos in the Press Release tell the story.  The quotes are testimony to the reality of using RESINATING Fiberglass Expansion Liners versus, in their case, SIPP in manholes.  TRA, the Trinity River Authority, handles the collection and treatment of waste water for over 60 cities in Texas including Dallas and Fort Worth and serves millions of people.
RESINATING Fiberglass Expansion Liners are far superior to CIPP and SIPP solutions, any type of hand troweled polymeric material, or any type of slip liner and are certainly better than Trench and Replace.
RESINATING LLC can even rehabilitate most collapsed pipes.  Read more about repairing collapsed pipe.
RESINATING Liners are able to strengthen manholes and pipes and seal leaks not only in RCP but also in clay pipes, FRP, PVC, brick or any other type of pipe or manhole.
RESINATING Liners can be made in diameters from 15" to 16' with sections up to 18' long.
RESINATING Liners can be fabricated in a broad range of shapes – cylindrical, elliptical, conical, domed, rectangular with squared or rounded corners, flat panels, etc.
RESINATING Liners can rehabilitate manholes and pipes in any shape or size and work around bends as well.
RESINATING Liners can rehabilitate manholes of any depth…80' as an example, no problem.
Today, municipalities often go to CIPP or SIPP to address the rehabilitation of their pipes and manholes because the upfront price is sometimes lower or because there hasn't been another option.
The money spent on a CIPP or SIPP option now will more than likely be lost money in a period of years.
CIPP and SIPP liners will likely need to be replaced by Resinating Liners to deal with continuing I&I flow.
The leakage data from Electro Scan's March 11, 2020 webinar and Electro Scan's April 16, 2020 press release make three important points.  Read more in the CIPP Section of The Better Choice – Resinating Liners page.
Having scanned 110,000 LF of CIPP liners in 2019, using its Patented low voltage conductivity technology, Electro Scan found over 14,000 leaks…that's one leak every 7.85' on average.
Electro Scan found 84% of pipes had leaks after being lined with CIPP. The average leak was 11 GPM as calculated in the CIPP section of The Better Choice – Resinating Liners page.  They also indicated that the leakage rate increased with age.
That adds up to 10.5 Mil GPD/mile for relatively small average diameter pipe.  If treating waste water costs $500/Million Gallons, that's about $5,000/day.  Larger pipes likely have more leaks/leakage.
 CIPP is not leakproof…RESINATING Liners are a Better Choice.
Such leakage would not be seen in a pipe or manhole lined with RESINATING Liners.  Backed by RESINATING's 20-Year Warranty, RESINATING LLC will repair or replace any RESINATING Liners with leaks that materially and substantially affect their performance for 20 years after installation.  Compare that to other warranties.
Photos of a Resinating Fiberglass Expansion Liner prior to it being inserted into a pipe or manhole and then one after it is bonded to the walls, in this case, in an RCP pipe, are below.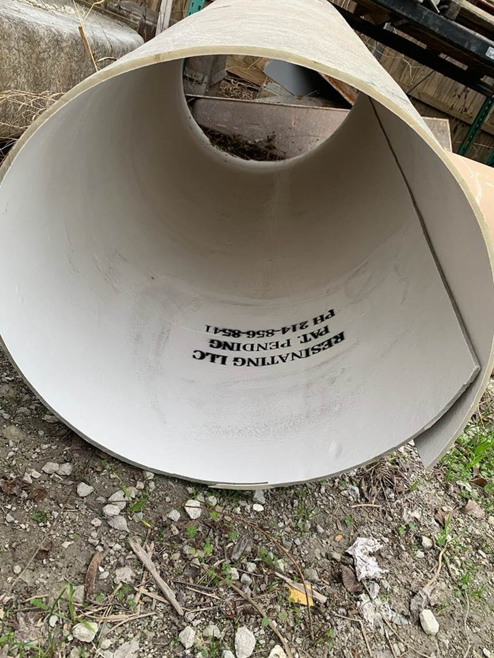 Expansion liner prior to insertion in a pipe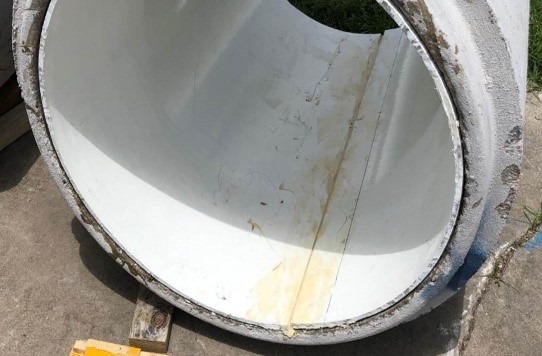 Expansion liner after insertion, bonded to RCP
RESINATING Fiberglass Expansion Liners provide a trenchless solution that creates a leakproof, fiberglass barrier that is impervious to the chemicals found in waste water, storm water and fresh water systems.
RESINATING Fiberglass Expansion Liners not only stop all leaks, they greatly enhance structural integrity.
Before focusing on the increased structural integrity of a manhole or pipe lined with a RESINATING Liner, let's focus on RESINATING LLC itself.  RESINATING LLC is the owner of the Patent on RESINATING Fiberglass Expansion Liners and their related products and processes. RESINATING LLC is an offshoot of Associated Fiberglass Enterprises (AFE).  AFE is RESINATING's partner in bringing RESINATING Liners to market.  RESINATING LLC and AFE, while separate corporations, have a common ownership and top management.
While RESINATING Fiberglass Expansion Liners were new to the market in 3Q2019, the RESINATING LLC Patent builds on AFE's 45 years of experience manufacturing standard fiberglass manhole liners as well as fiberglass manhole structures for new construction.
RESINATING Fiberglass Expansion Liners are made using the same proven manufacturing technology that AFE has used for that entire 45-year period.
During those 45 years, AFE has never had a warranty claim under its 20-year warranty, or a repair request after 20 years.
Lab tests show the strength of RESINATING Liners and the improved structural integrity that they provide to pipes and manholes rehabilitated with RESINATING Liners.  ASTM C497 tests were conducted on RESINATING Liners comparing them to RCP and Hobas pipes.  An ASTM D790 test vs Hobas and a "pull test" on a RESINATING Liner and its bonding agent were also conducted. Those tests are summarized below.  Read more about those tests and detailed lab reports in the Tech Data Section of the Specifications and Tech Data Tab.
An ASTM C497 test was performed on a failed Class III RCP with a Resinating Liner inserted in it.

The results showed a 50% +/- increase in the load bearing capacity of the lined RCP.
The failed RCP with a RESINATING Liner inside was far stronger than the new RCP was when the RCP was new…with the RESINATING Liner inside, the RCP was better than new.
The RESINATING Liner never failed and had no damage when the RCP failed.

An ASTM C497 test was also conducted on a RESINATING Liner inserted in a new 30" Hobas 46 pipe section and a previous failed Hobas 46 section.

The RESINATING Liner absorbed a 25% deflection with no damage as the Hobas pipe failed.
The new Hobas pipe lined with a RESINATING Liner absorbed 115% more load than a new Hobas pipe without a RESINATING
When a RESINATING Liner was bonded inside a previously failed Hobas 46 pipe, that failed pipe handled 98% more load than the Hobas 46 pipe did when it was new.

The ASTM D790 test results show a 1/2" RESINATING Liner handled 72,000 PSI in the transverse direction. That's almost 3.5x what the 1.25" Hobas FRP handled.  The RESINATING Liner also handled 2x the load that the Hobas pipe handled.  In the Axial direction, the load bearing capability of both liners was comparable, but the RESINATING Liner handled 2x the PSI of the Hobas FRP.
The strength of RESINATING Liners is due to the way Resinating Liners are made…
…the same way AFE products have been made for decades.
Unlike most fiberglass liners, a RESINATING Liner is fabricated using a continuous strand of E-Class or better fiberglass, covered in resin without any fillers added.  A RESINATING Liner is solid fiberglass.
The continuous strand of fiberglass is wound around a mandril and built up until the desired thickness is reached.  A fiberglass chop is also added…it bridges the transverse strands of fiberglass, further strengthening the RESINATING Liner.
This manufacturing process gives Resinating Liners their incredible strength.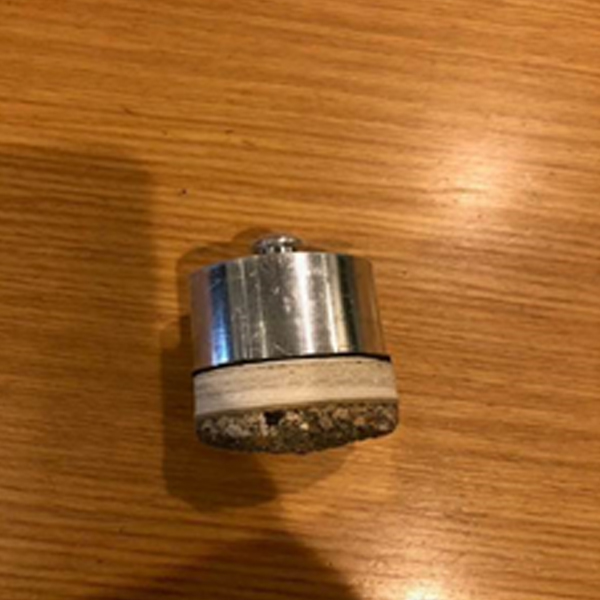 Another example of the strength of a RESINATING Liner is shown in this photo…the result of a "Pull Test" on RCP.
The RESINATING Liner is below the metal plug.  Between the RESINATING Liner and the concrete is a layer of RESINATING's proprietary bonding agent.  It creates an unbreakable bond between the RESINATING Liner and the wall that is being renewed.  The first thing to give was the weakest link…the concrete.
Read more about this lab report and all others in the Tech Data Section of the Specifications and Tech Data Tab.
Why are RESINATING Liners called Expansion Liners?  After fabrication, each Liner is cut axially and compressed, overlapping the two sides of the cut.  This lets it fit easily in the opening of a manhole or pipe. Having first coated the wall of the pipe or manhole with RESINATING's proprietary primer and bonding agent, The RESINATING Liner is then expanded to its proper diameter once in place.  This secures the RESINATING Liner tightly to the walls of the pipe or manhole, stopping all leaks and increasing the structural integrity of the pipe or manhole.  In the TRA installation, the RESINATING Liner for a 54" diameter manhole was fit through a 20" manhole opening.
Using this compression/bonding/expansion technique eliminates any significant impact on the flow capacity of a pipe such as the impact that slip liners create.  RESINATING Fiberglass Expansion Liners are relatively thin, have no collars and are virtually friction free.  Given its low coefficient of friction, a RESINATING Liner may actually increase the flow capacity of a pipe.
The Specifications and Tech Data Tab on the website provides a lot more information specific to the use of RESINATING Liners in both pipe and manhole environments.  That tab, the Products Tab and the Installation Examples Tab, where videos and slide shows documenting the installation of RESINATING Liners in manholes and pipes are kept, are very interesting as is The Better Choice – Resinating Liners page.
On The Better Choice – Resinating Liners page, the characteristics of RESINATING Liners are compared in some detail to Trench & Replace, CIPP and SIPP options.  The links to articles and videos in the comparison table in the CIPP Section provide some pretty important perspectives.
There is another article to check out.  It relates to a serious problem in Bentonville, Arkansas where 9 miles of Hobas pipe has failed in less than 10 years.  RESINATING Liners can resolve this problem for Bentonville at a substantially lower cost than the Trench & Replace approach Bentonville was initially considering.
Lastly, there is more information on the various other tabs in this website www.resinatingllc.com.  Each tab of the website is summarized at the bottom of the Home Page.  Each covers more ground than is covered in this document.
As stated above:
RESINATING Liners are leakproof, incredibly strong and indestructible.
RESINATING Liners are backed by a 20-year repair or replace warranty and have a likely useful life of 100 years and perhaps more.
RESINATING Liners eliminate virtually all excavation, traffic congestion, hazardous waste removal, resurfacing and landscaping costs associated with Trench & Replace
RESINATING Liners avoid health risks to the population and to the workers. RESINATING Liners to generate VOC's and/or styrene during installation whereas the curing of CIPP and SIPP
RESINATING Liners can be installed quickly and offer substantial savings often upfront and certainly over the near term and the useful life of the manholes and pipes that have been rehabilitated.
These are the major factors that will propel the growth of Resinating LLC.
RESINATING Liners will drive dramatic change in the way municipalities and other organizations approach the challenge of keeping their manholes and pipes in good repair.
For more information, click the "Learn More" links, explore the other tabs on the website, or Contact Us.