About Resinating LLC® and its EIPI Technology™
Resinating LLC, a company with roots in the fiberglass industry that date back to 1959, has been manufacturing fiberglass liners through its sister company, Associated Fiberglass Enterprises (AFE).  In fact, AFE invented slip liners in 1975.  Headquartered in Fort Worth, Texas, it has sold in the area of $100,000,000 worth of its fiberglass liners since 1975.  You can find a section on our history on The Better Choice Page of our website.
We believe you will find the entire Resinating LLC website to be quite interesting and worth your time to review.  This page will provide a lot of perspective on EIPI Technology.  It will serve as a guide through our website as well as provide links to many important sections and topics.  Resinating LLC's patented EIPI Technology is a true technological breakthrough when it comes to rehabilitating manholes and connecting pipes.  It is clearly a far better solution than any other available option.
Building on that brief background, Resinating's patented EIPI Technology, Expand-in-Place Integration Technology (EIPI™), blends the strength of Resinating Fiberglass Expansion Liners with a sophisticated installation process to rehabilitate manholes and connecting pipes that are in need of repair.
Resinating's EIPI Technology is a simple yet powerful trenchless technology. A compressed Resinating Fiberglass Expansion Liner is inserted into a manhole or pipe, and securely bonded as it is expanded to the existing walls of that structure using Resinating's proprietary bonding agent. The result is a single, integrated, structural unit, one that's stronger than existing structure was when it was new. Being bonded to the substrate, it becomes one with the substrate. That's what integration means!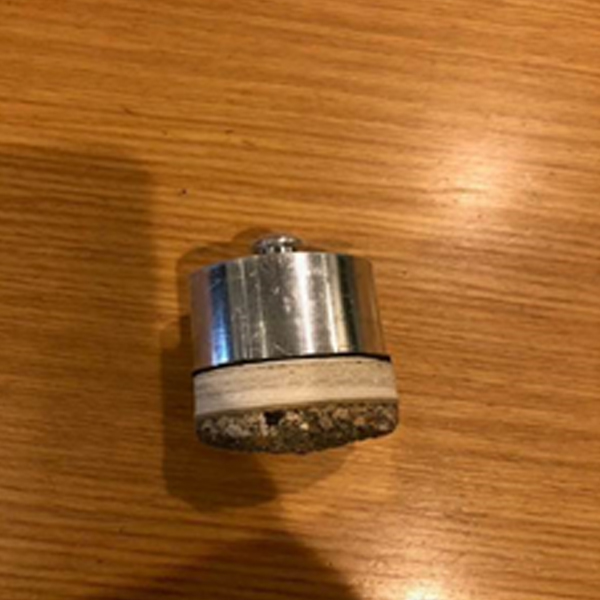 This Pull-Test photo demonstrates another way to think of "Integration". It shows the strength of Resinating's EIPI Technology. The pull-plug is secured to the Resinating Liner by a special epoxy provided by the testing lab. The Resinating Liner is then bonded to wet 3,000psi concrete with a thin layer of Resinating's Proprietary Bonding Agent.
When increasing force is applied to the pull-plug, you can see that the first thing to break is the concrete! The bonding agent secures the Resinating Liner to the concrete so tightly that there is no delamination, creating a leakproof barrier that delivers unequaled structural integrity. What other rehabilitation option can perform like this?
Resinating's EIPI Technology doesn't "line" an existing structure…
…it becomes an integral part of that structure…ready to perform flawlessly for decades to come.
Resinating Fiberglass Expansion Liners are available at this point in diameters ranging from 30″ up to 16', can be fabricated into virtually any shape, and are effective with all types of substrate.
EIPI Technology can be used to rehabilitate wastewater, stormwater and fresh water systems as well as many industrial systems that carry liquids.  It can rehabilitate manholes, pipes, junction boxes, lift stations, culverts, etc encompassing a wide range of geometries with repairs that will last for decades.  Resinating Liners are impervious to corrosion from any of the chemicals found in municipal water systems and many industrial settings as well.
Resinating's EIPI Technology delivers major benefits not available with any other rehabilitation option.   EIPI Technology is the technological equivalent of "5G" for the cell phone industry…it will obsolete everything that has come before it.
EIPI Technology carries a 20-year warranty that there will be no infiltration and has a useful life of 100 years or more.
EIPI Technology delivers unequaled structural integrity as well…rehabilitated pipes and manholes are 50% to 100% stronger than they were when they were new.
EIPI Technology is The Better Choice, not just another option, a far better choice than any other rehabilitation technology for rehabilitating manholes and connecting pipes.  Tests and the reactions of our customers prove that.  Here are links to some press releases related to some of the rehabilitation projects that Resinating LLC has completed…the quotes are very gratifying:
Lewisville, Texas
The ULM Manager for the City of Lewisville said, "There are no other solutions on the market that can do what Resinating Liners can do."
The GC on the job said, "Resinating Fiberglass Expansion Liners and the technology associated with them are cutting edge and far surpass any other options available."
Trinity River Authority in Texas
The TRA said that "It couldn't be more delighted with what it's seen from RESINATING."
The TRA "expects RESINATING Fiberglass Expansion Liners will prove themselves to be far superior to SIPP and CIPP solutions, and, of course, far less expensive and less disruptive than doing a Trench and Replace."
St. Paul, Kansas
The City Superintendent said "I'm glad we finally found a solution for repairing our aging manholes."
Press Releases are pending for other installations that were recently completed in New Orleans, Panama City and another one for Lewisville as well as other locations.  You can review the letter of recommendation from the Lewisville ULM Manager here.
On The Better Choice Page, there is important information available that's really a "must read" in the CIPP and SIPP sections:
Among many other points, the CIPP section analyzes data Electro Scan, Inc. has collected and published from their inspections of pipes lined with CIPP. Their patented FELL technology shows that substantial levels of continuing infiltration is likely to occur when CIPP is used to rehabilitate a collection system, generating significant ongoing waste water treatment costs.  Their data shows that  84% of CIPP lined pipes had defect flows on average every 8', each defect generating an average 11 GPM flow.
Important video links, located in the table in the CIPP section, show the reality of what can occur when CIPP is used as a rehabilitation option.
The Better Choice Page also has a section dealing with why Resinating Fiberglass Expansion Liners and EIPI Technology are a far superior option compared to Trench & Replace.  Resinating Liners can even be used to rehabilitate most collapsed pipes rather than doing a costly T&R project.
Another section on The Better Choice Page lists the many additional benefits associated with EIPI Technology…benefits that cannot be obtained from any other available rehabilitation option.
No matter what rehabilitation options might be considered, EIPI Technology delivers the superior performance you'd expect from the next generation technology for rehabilitating manholes and connecting pipes.
As to the point on "structural integrity" mentioned above, the detail behind the stated increase in structural integrity delivered by Resinating Liners and EIPI Technology can be found on the Tech Data Page of the Specifications and Tech Data Tab of the website.  Information on the various ASTM tests that have been done as well as links to the original lab reports can be found there. The tests include C497 tests versus RCP and Hobas, the Pull Test mentioned above and a D790 test.
The Specifications and Tech Data Tab also has sections relating to the Specifications for using EIPI Technology to rehabilitate both pipes and manholes…both as narratives and in CSI format.
To see EIPI Technology in action, review the Installation Examples tab on our website.
The top thumb nail links to a 2 ½ minute video of another successful rehabilitation recently completed in Lewisville, TX…rehabilitating a 600' pipe, 30" in diameter.  As you can see, the "before" and "after" segments at the beginning of the video show what a difference Resinating Liners can make…a difference that provide faultless performance for decades.Interestingly, this pipe is essentially below the level of the water table yet there is not a tear drop of water to be seen on the inside of the Resinated pipe on the run through at the end of the video…quite a contrast to what one might find with CIPP.
The second thumb nail links to a 1 ½ minute video of a rehabilitation of another project previously completed by Resinating for Lewisville, TX – two 20'+ deep manholes with a section of collapsed pipe connecting them.
The bottom thumbnail links to a 47 slide, slide set that documents the rehabilitation of a conical brick manhole in Kansas.  It shows in more detail the process used to rehabilitate manholes, in particular, and pipes and other assets, in general.
The other sections of the website are worth exploring as well.  From the Home Page  to Contact Us, the entire site is very informative.  The site contains a raft of information.
We look forward to discussing Resinating Fiberglass Expansion Liners and Resinating LLC's EIPI Technology in more depth with you and to exploring with you how EIPI Technology can be applied to the challenges you face on an ongoing basis.