About Resinating LLC® and its EIPI Technology – An Overview
Resinating LLC's patented EIPI Technology for installing Resinating Fiberglass Expansion Liners provide municipalities and companies with the most advanced technology available for rehabilitating manholes and connecting pipes in waste water, storm water, and fresh water systems as well as industrial systems.
No currently available rehabilitation option can offer the short-term and long-term financial, social, and environmental benefits provided by Resinating Liners.
What is Resinating LLC?
A company committed to making a difference in the economics and effectiveness of infrastructure that carries liquids, creating a positive difference in the longevity and well-being of this infrastructure. With over 47 years of experience in manufacturing fiberglass liners for wastewater, stormwater and freshwater systems as well as industrial systems we offer an impressive level of experience and expertise.
What is EIPI Technology?
Resinating's Expand-in-Place Integration (EIPI) Technology securely bonds Resinating Liners to the existing walls of a manhole or pipe using Resinating's Proprietary Bonding Agent to create a single, integrated structure. That structure is 100% leakproof and delivers a level of structural integrity that is unequaled by any other rehabilitation option.
Resinating Liners – Typical Specs at this time:
Shape: Virtually all – cylindrical, conical, rectangular, domed, etc.
Section Length: Up to 18′
Thickness: Typically 1/4″ – 1/2″ or thicker depending on project requirements
Diameter: 30" to 192′
Major EIPI Benefits:
Warrantied 100% leakproof for 20 years
Incredible strength greatly improves structural integrity
Indestructible – impervious to corrosion
A useful life in excess of 100 years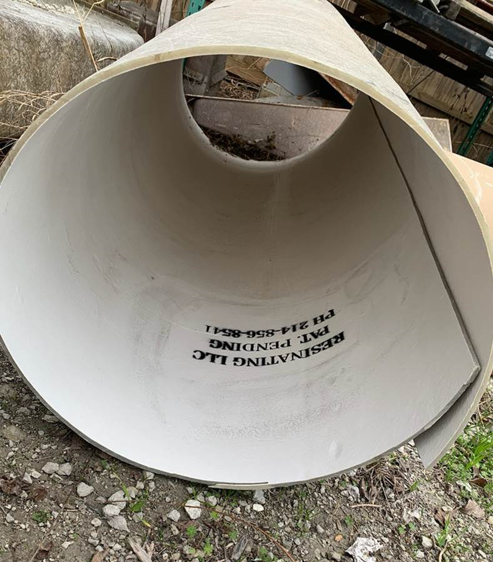 How is EIPI Technology Installed?
After being custom manufactured to match the requirements of a project, Resinating Liners are cut axially to be compressed to fit easily inside the structure of the current system. For example, a 54″ diameter Resinating Liner was recently inserted into a 20″ wide manhole opening.
Once the Resinating Liner is inside the system, it is expanded and bonded to the existing walls using Resinating's Proprietary Bonding Agent, to create an integrated structural unit with the existing walls.
For more information, click the "Learn More" links, explore the other tabs on the website, or Contact Us.