The RESINATING LLC® Story – An Overview
RESINATING® Liners provide municipalities and companies with the most advanced technology available for rehabilitating manholes and piping in waste water, storm water, and fresh water systems in most cases eliminating the need for Trench & Replace, even in some cases where the pipe has collapsed.
Currently available market options cannot offer the long-term financial, social, and environmental benefits provided by RESINATING Liners.
A company of committed people striving to make a positive difference in the longevity and well-being of our various water systems. With over 40 years of experience in manufacturing fiberglass liners we offer an impressive level of expertise.
RESINATING Liners are 100% E-class fiberglass structures that rehabilitate failing water systems through reinforcing and leakproofing manholes and piping.  Made by winding a continuous fiberglass strand, they are fabricated to the required shape, length, diameter, and thickness to meet the specific needs of a project.
 Typical Specs:
Shape: Virtually all
Length: Up to 18′
Thickness: 1/4″ – 1/2″ or thicker depending on requirements
Diameter: Up to 16′
Major benefits:
100% leak-proof & impervious to corrosion
Incredible strength greatly improves structural integrity
Indestructible
Likely useful life of 100 years – benefiting generations to come
20-year warranty – unlike anything offered on the market today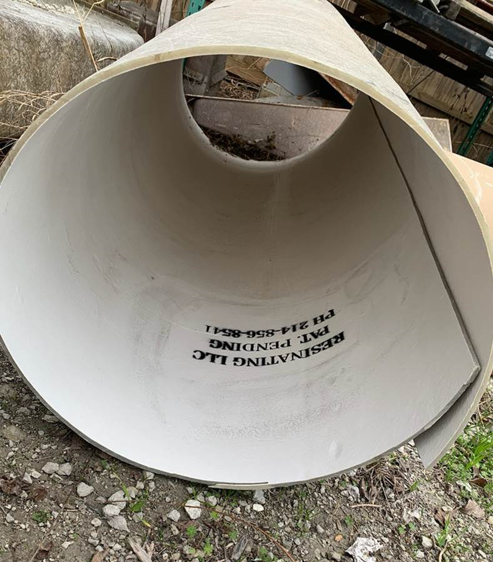 How it's installed
After being manufactured, our liners are cut axially to be compressed so it can fit easily inside the current system structures without the typical major disruptions associated with T&R. For example, a 54″ diameter RESINATING Liner was inserted into a 20″ wide manhole opening.
Once the liner is inside the system, it is expanded and bonded to the walls using RESINATING's proprietary bonding agent creating a leakproof seal and substantially increasing the structural integrity of the manholes and pipes in the water system.
Manufactured by RESINATING LLC in the US, we can respond quickly even to emergency situations.
For more information, click the "Learn More" links, explore the other tabs on the website, or Contact Us.