OUR GOAL: RID THE WORLD OF INFILTRATION & RE-REHABILIATION
By Using Resinating LLC's Patented EIPI Technology
to Rehabilitate
Every Manhole and Every Pipe Everywhere!
EIPI Technology…the "forever" rehabilitation solution!
In the past, decision makers in municipalities, at engineering firms and in General Contractors had several choices with various faults to choose from as they addressed the challenges of rehabilitating manholes and connecting pipes. Their choices included the use of CIPP, SIPP, Trench & Replace and various other methodologies.
NOW, there is A Better Choice… A Far Better Choice Than Any Other Rehabilitation Option… Resinating LLC's EIPI Technology.
At the heart of EIPI (Expand-in-Place Integration) Technology is the Resinating Fiberglass Expansion Liner.  The Liners are fabricated in our plant by winding continuous strands of fiberglass, 32 at a time, soaked in resin, around a mandril, while spraying chop between the layers to add further strength and structural integrity.  The result…solid, strong and indestructible Resinating Liners fabricated with no fillers.  After the Liner is cured, it's cut axially so it can be compressed to a smaller diameter than the structure being lined…this is key.
Compressing the Liners enables them to be easily inserted into a manhole or pipe.  Once in position, the Liner is expanded and securely bonded to the substrate of the existing manhole or pipe using Resinating's Proprietary Primer which enables our Proprietary Bonding Agent to function properly in wet conditions.  After all the seams and joints are glassed, we will have created single, integrated, structural unit, one that is 100% leakproof and far stronger than the existing structure was when it was new.  No other rehabilitation option does this.
EIPI Technology bonds Resinating Liners to any substrate – RCP, brick, FRP, VCP, etc and conforms to literally any shape – cylindrical, tapered, rectangular, domed, horseshoe, etc and is available in diameters from 30" to 192", enabling EIPI Technology to rehabilitate pipes, manholes, junction boxes, wet wells, culverts, etc in wastewater, stormwater and freshwater systems.  When we complete the design of some robotics, we will be able to reduce the minimum diameter to 8".
EIPI Technology was awarded a patent by the US Patent & Copyright Office in June, 2020 and is currently being patented in major countries around the world…where there's a pipe or manhole in need of rehabilitation, there's a need for EIPI Technology!
Why?  Because EIPI Technology offers a set of benefits that are not available from any other rehabilitation option.  These benefits include the fact that:
EIPI Technology is trenchless…it can often renew collapsed pipes and failing manholes that would otherwise be planned for replacement.
EIPI Technology is warrantied to be 100% leakproof for 20-years and is likely to remain leakproof for its useful life of 100+ years. Importantly, the warranty covers both materials and workmanship.
EIPI Technology is strong, adding an unequaled level of structural integrity to every project, leaving each rehabilitated manhole or pipe far stronger than it was when it was new.  ASTM tests we ran show structures lined using EIPI Technology are 50% to 100% stronger than when new.
EIPI Technology is a high-flow solution for pipes with little if any impact on the flow capacity due to its low profile (typically 1/4″ to 1/2″ thick) and with the very low coefficient of friction associated with the smooth interior of the fiberglass liner.
EIPI Technology is environmentally friendly with no health hazards, emitting no VOC's or styrene on the job site.
EIPI Technology is hugely cost-effective and conserves capital. It is competitively priced on Day 1 and generates ongoing savings throughout its long life by eliminating the cost of treating ongoing infiltration and avoiding the need to ever rehabilitate the rehabilitated structure again.
Resinating LLC's EIPI Technology – The GAME CHANGER
What do we mean by "Integration" and "EIPI Technology"?
To emphasize a point, by "Expand-in-Place Integration", we mean that when a Resinating Fiberglass Expansion Liner is inserted into a manhole or pipe, and securely bonded it to the existing walls of that structure using EIPI Technology and Resinating's Proprietary Bonding Agent, the result is a single, integrated, structural unit, one that is stronger than the existing structural unit was when it was new.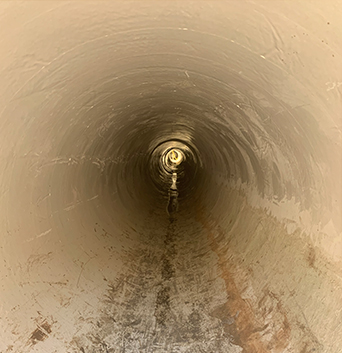 Another perspective on EIPI Technology. The photo on the left is of a finished section of 30" pipe, rehabilitated with Resinating Liners securely bound to the original walls. There isn't a drop of water leaking even though the pipe is below the water table…that's what leakproof means!
What about structural integrity? The righthand photo shows the results of an ASTM D7234 Pull-Test, where the Resinating Liner is secured to the concrete by a thin layer of Resinating's Proprietary Bonding Agent. As increasing force is applied to the pull-plug, the first thing to break is the concrete! What other rehabilitation option can perform like this?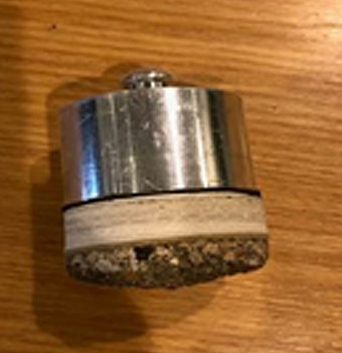 When a pipe or manhole is rehabilitated with EIPI Technology, it will perform reliably for decades.
Resinating's EIPI Technology doesn't just "line" an existing structure, it becomes an integral part of it!
Resinating LLC's EIPI Technology Is The Better Choice…
…a far Better Choice Than Any Other Rehabilitation Option…
…For rehabilitating manholes and connecting pipes!
Compared to Resinating LLC's EIPI Technology, everything else is a temporary fix!
IF YOU REVIEW THE TABS ON THIS WEBSITE, YOU WILL LEARN A GREAT DEAL ABOUT
Resinating LLC's EIPI Technology, Resinating LLC, Resinating Fiberglass Expansion Liners
AND THE PATENTED PROCESS FOR INSTALLING THEM
The "About Us" tab talks to Resinating LLC and its roots as an offshoot of AFE, Associated Fiberglass Enterprises. Resinating LLC has partnered with AFE to manufacture and support the installation of Resinating LLC's EIPI Technology.
"The Better Choice" tab links to three different pages:

"The Resinating LLC Story – An Overview" is a 1-page summary that provides a brief overview of Resinating LLC and Resinating's EIPI Technology.
"About Resinating LLC and its EIPI Technology" page provides more detailed information focused on Resinating LLC and Resinating Fiberglass Expansion Liners, the foundation of Resinating's EIPI Technology, and can serve as a guide to the website…many sections of the website are linked to in this page.
"The Better Choice – Resinating's EIPI Technology" page addresses the many of the benefits of EIPI Technology, ranging from explaining why EIPI Technology is hugely cost-effective in the benefits section on the page to comparing it specifically to Trench & Replace, CIPP or SIPP options. It also provides some insight into the history behind Resinating LLC. In the process, it develops why EIPI Technology and Resinating Fiberglass Expansion Liners are expected to become the dominant technology used to keep systems that carry liquids in good repair.
The "Products" tab provides a basic description of Resinating's products which form the underpinning of its EIPI Technology.
The "Specifications and Tech Data" tab goes into greater depth on how we apply Resinating's Expand-in-Place Integration Technology to the problems all municipalities and utilities face in maintaining their infrastructure. It includes a detailed narrative on the specifications for the installation of EIPI Technology in manholes and another for its installation in pipes as well as links to those specifications in CSI format. A third link provides detailed technical data related to Resinating Fiberglass Expansion Liners themselves including links to the testing laboratory's reports. These tests include:

An ASTM C497 test on the strength of Resinating Liners vs Class III RCP as well one on Resinating Liners vs Hobas 46 and 72.
A "Pull Test" on a Resinating Liner bonded to a concrete slab.
An ASTM D790 test on Resinating Liners vs Hobas.
The "Installation Examples" tab has two videos and a slide set that shows how EIPI Technology is put to work on various projects.
The "Authorized Resinating Installer" tab speaks to how we value the opportunity to be the supplier to GC's and to our commitment to train them to install EIPI Technology consistent with the quality Resinating LLC requires.
The "Warranty" tab provides the details on Resinating LLC's unique 20-Year limited warranty.
The "In The Media" tab lists recent Press Releases, Articles and Advertisements.
Use the "Contact Us" tab to reach us with questions, request more information or a meeting. We will get back to you promptly.
When you come to understand EIPI Technology as we do…
…you will conclude as we have…
…that EIPI Technology is a true technological breakthrough!