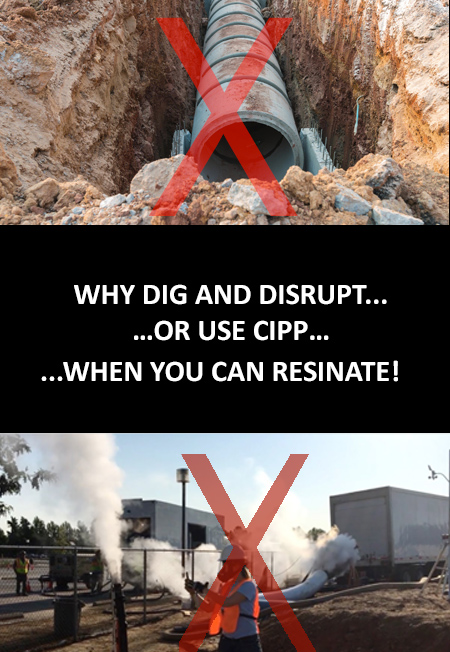 Welcome to Resinating LLC – The Better Choice
Until now, decision makers in municipalities, at engineering firms and in General Contractors had several choices to choose from as they addressed the challenges that needed to be addressed including CIPP, SIPP, Trench & Replace and various slip liner solutions.
But now, there is A Better Choice…RESINATING Fiberglass Expansion Liners.  The patent application that RESINATING LLC has filed represents a new technological approach to addressing the continuing challenges that everyone faces.
RESINATING Fiberglass Expansion Liners are THE NEXT GENERATION TECHNOLOGY FOR REPAIRING MANHOLES AND CONNECTING PIPES IN WASTE WATER AND STORM WATER SYSTEMS.
Trenchless RESINATING Solutions PROVIDE A MULTITUDE OF BENEFITS TO MUNICIPALITIES DEALING WITH THE PROBLEMS OF DETERIORATING MANHOLES AND SEWER PIPES IN WASTE WATER AND STORM DRAINAGE SYSTEMS INCLUDING:
Eliminating the need for virtually all excavation, traffic congestion, hazardous waste removal, resurfacing and landscaping costs associated with trench and replace solutions.
Avoiding the health risks associated with styrene and various VOC's that are released during the installation of CIPP.
Enabling repairs to proceed very quickly, lining most manholes or several hundred feet for most sewer pipes in a day.
Reducing the carbon footprint for sewer pipe and manhole repair work.
Saving significant sums upfront relative to a

trench and replace

 solution.
Costing much less than a CIPP solution over the medium and longer term given its shorter useful life.
Reducing on going operating costs by stopping all leaking for its likely useful life of 50 to 100 years or more.
Providing a 20-year repair or replace warranty on the installed RESINATING Solution.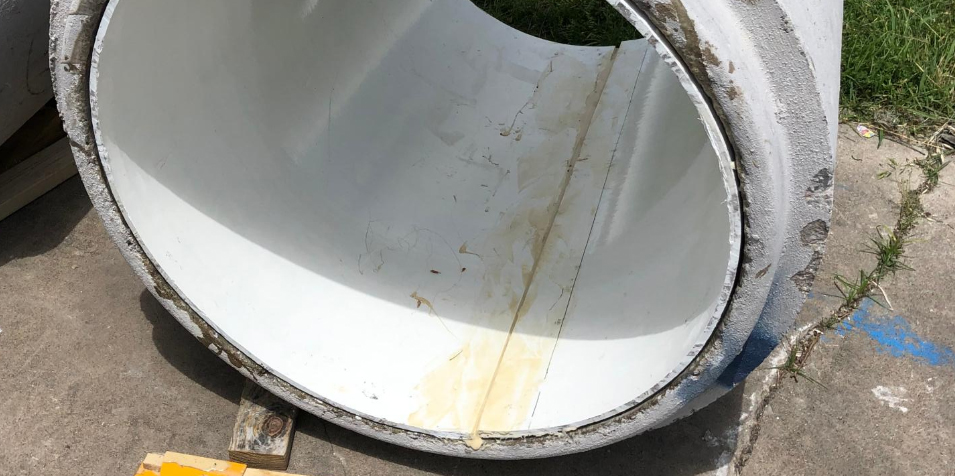 The RESINATING Fiberglass Expansion Liner inserted in and bonded to, greatly increases the loadbearing capacity of the RCP as documented in the Technical Data dropdown of the Specifications tab.
READING EACH TAB OF THIS WEBSITE WILL EXPLAIN A GREAT DEAL ABOUT RESINATING LLC.  The site is constantly being updated to cover more topics and add more perspective but as it stands now, it provides a lot of insight into the next generation technology for sewer pipe and manhole repair
The "About Us" tab talks to RESINATING and its roots as an offshoot of AFE, Associated Fiberglass Enterprises.   RESINATING has partnered with AFE to manufacture and support the installation of RESINATING Solutions.
The "Products" tab provides a basic description of our major products.
The "Specifications" tab goes into greater depth on how we approach the application of RESINATING's Solutions to the problems all municipalities face.  Its dropdown list includes a detailed narrative on the specifications for the successful installation of manholes, another for installations in sewer pipes and a third with photos and a table detailing technical data related to RESINATING's  Fiberglass Expansion Liners.  The actual ASTM D497 and ASTM D790 test documents, which are also linked there, highlight the overall strength of RESINATING's Liners compared to that of RCP itself and of liners from another leading global fiberglass manufacturer.
The "Authorized Resinating Installer" tab speaks to how we value the opportunity to be the supplier to GC's and to our commitment to train them to install RESINATING's Solutions consistent with the quality of the RESINATING's products themselves.
The "Benefits" tab addresses many of the direct and indirect benefits of using RESINATING products in the renewal and repair of manholes and sewer pipes.
The "1- Day Install" tab is a slide set showing the actual installation of an Expansion Liner in a manhole in 1-Day.  In this example a 42" liner was inserted through a 22" manhole cover without a shovel full of dirt turned over.
Likewise pipes can be renewed at the rate of several hundred feet per day in a straight run.  To do this RESINATING Fiberglass Expansion Liners are compressed to reduce their diameter and inserted into the pipe, one after the other.  They are then expanded against the walls of the pipe once in position, the walls of the pipe having been coated with a proprietary bonding agent which bonds them to the walls of the pipe.
The "Warranty" tab provides the details on RESINATING's unique 20-Year limited warranty with its very few limitations.
The "Press Release" tab lists recent Press Releases.
The E-mail address on the "Contact Us" tab can be used to ask questions or request that future notices be sent to you.